Web fonts made a huge impact on web design a few years ago. They are easy to use and can be used as icons too. The best of all that you can also use them in your designs and mockups.
FontAwesome is a nice collection of icons and it is free. Having almost 400 icons at hand is probably enough for the majority of your icon needs.
Usage
To use them you have to install FontAwesome fonts. Alternatively, you can use Nexusfont or similar font loaders too.
Once the font is installed (or loaded) you can copy icons from the online cheat sheet.
However, this can be a tedious work so I put them together in a Fireworks file (Photoshop file is also provided). Simply open the file and copy-paste the icon you need.
As these icons are actually characters of a font you can resize them by changing the font size or recolor by changing its color. Awesome!
Update 2015-11-06: Searchable icons
Finding a specific icon out of hundreds is often hard so I added icon names to the file. Simply go to Edit → Find and Replace in the main menu and search for icon name, then copy the icon next to the found text.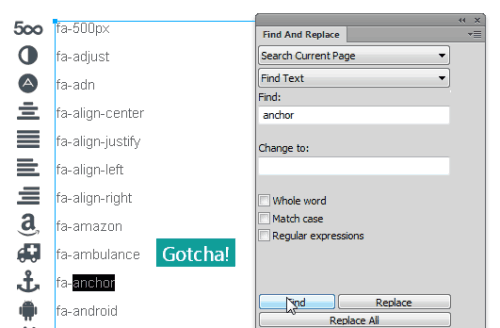 Download